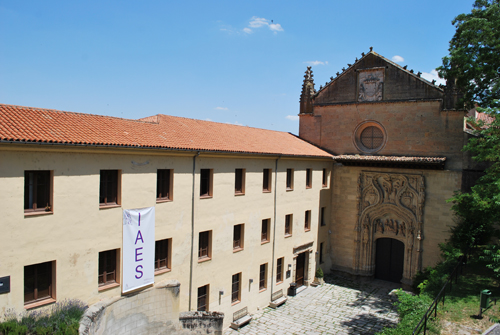 International Architectural Education Summit 2011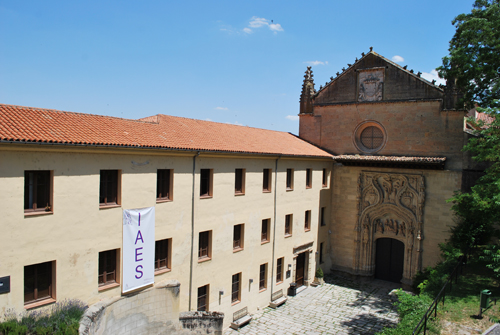 IE University, Segovia, Spain
スペイン、マドリッドとセゴビアで、6月24日から26日に開催された世界建築教育サミット2011に、
古谷誠章、斎藤信吾、竹味佑人、籔内文恵、李恵利が参加しましたので、報告をさせていただきます。
Prof. Nobuaki Furuya, Shingo Saito, Yuto Takemi, Fumie Yabuuchi and Lee Hyeri had joined in International Architectural Education Summit 2011 from 24th to 26th of June 2011 in Segovia, Madrid.
Below is overview of this summit.
International Architectural Education Summit 2011 "Innovation in Architectural Education"
June 24-26, 2011. Madrid/Segovia
Jointly organized by UCLA, Los Angeles and IE School of Architecture, Spain
This event brings together internationally renowned architects, educators, and scholars to explore trends, issues, and research in architectural education worldwide. The inaugural 2009 summit held at Tokyo University focused on how globalization has affected architectural education as a discipline and its relation to the profession.
The 2011 summit in Spain will examine Innovation in Architectural Education. Experts will present their views, debate current modes, and investigate possible new directions in architectural education. Panel discussions will address four themes:
interdisciplinary collaboration, alternative educational platforms, opportunities and challenges of education in a digital environment, and the need for and implications of global outreach.
IAES site adress:
http://www.iaes.aud.ucla.edu/

June 24, 2011
Keynote Lecture: "Rethinking How We Think" Thom Mayne
Co-founder Souther California Institute of Architecture (SCI Arc)
Professor UCLA Architecture + Urban Design, Los Angeles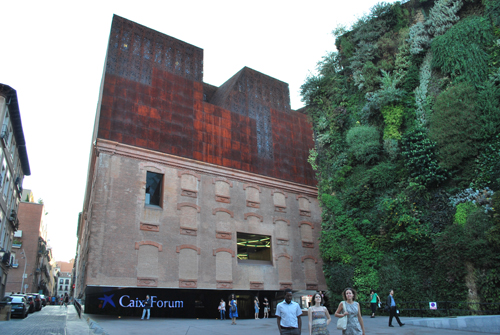 place: CaixaForum, Madrid :made by Herzog & de Meuron.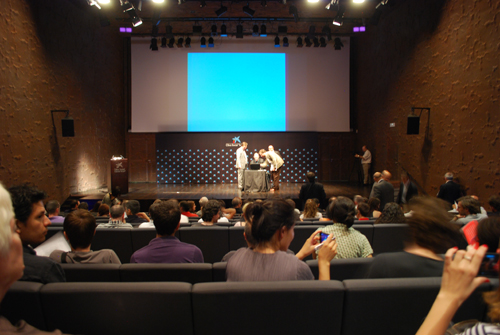 speaker: Thom Mayne in CaixaForum hall.
June 25, 2011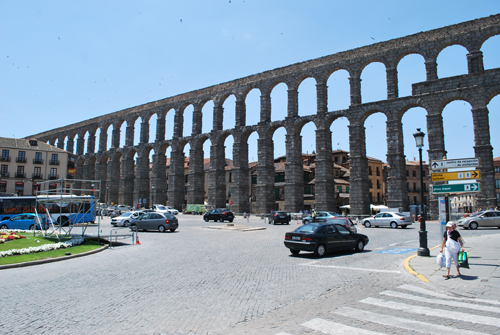 The roman Aqueduct of Segovia.
Symposium 1
Interdisciplinary Collaboration – Reality, Opportunity or the Erosion of Architecture?
Odile Decq ? Director General, Ecole Special d'Architecture, Paris
Hitoshi Abe ? Chair of Department of Architecture and Urban Design Department, UCLA, Los Angeles
Donna V. Robertson ? Dean, College of Architecture, Illinois Institute of Technology, Chicago
Javier Quintana ? Dean, School of Architecture, IE University, Madrid/Segovia
Rob Docter ? General Director, Berlage Institute, Rotterdam
Symposium 2
Alternative Educational Platforms
Peter Cook ?The Bartlett School of Architecture, London/ Staedelschule Frankfurt
Hans-Jurgen Commerell ? Director, ANCB – Aedes Network Campus Berlin
Winy Maas ? Director of "The Why Factory", Delft University of Technology
Yasuaki Onoda ? Professor, Department of Architecture and Building Science, Tohoku University
Martha Thorne ? Associate Dean for External Relations, School of Architecture, IE University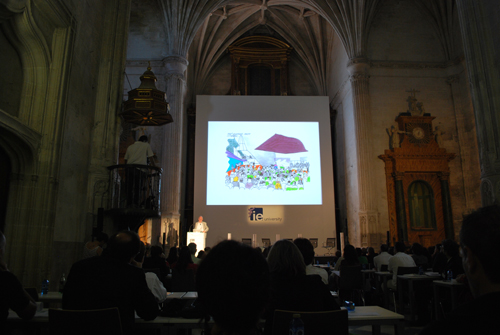 the lecture of Peter Cook
Symposium 3
Education in the Digital Age
Marcos Cruz ? Director of The Bartlett School of Architecture, London
Monica Ponce de Leon ? Dean, A. Alfred Taubman College of Arch. and Urban Planning, U. of Michigan
Ingeborg Rocker ? Associate Professor of Architecture, Graduate School of Design Harvard University
Urs Hirschberg ? Dean of architecture faculty of TU Graz, Head of Institute of Architecture and Media
Branko Kolarevic ? Associate Dean, Faculty of Environmental Design, University of Calgary
June 26, 2011
Symposium 4
Global Outreach – Needs and Implications
Stan Allen ? Dean, School of Architecture, Princeton University
Brett Steele ? Director, Architectural Association School of Architecture, London
Wang Shu ? Head of Architecture Department, China Academy of Art, HangZhou, China
Neelkanth Chhaya ? Dean, Faculty of Architecture, CEPT University, Ahmedabad, India
Nobuaki Furuya ? Professor of Architecture, Waseda University, Tokyo
Mark Wigley ? Dean, Graduate School of Architecture, Planning, and Preservation, Columbia University
Below is the lecture of Nobuaki Furuya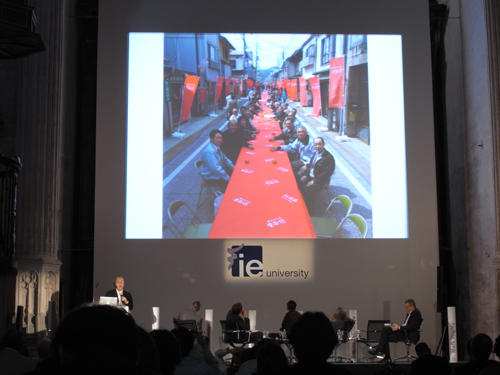 About collaboration with local community, Unnan city in West Japan
http://www.furuya.arch.waseda.ac.jp/blog/index.php?catid=3&blogid=1
http://www.co-unnan.jp/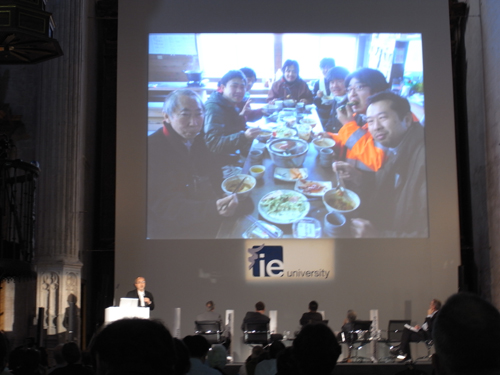 About activity as architect in Tanohata, Iwate, NorthJapan where was hit by a storong earthquake and huge Tunami.
http://www.furuya.arch.waseda.ac.jp/blog/tanohata.php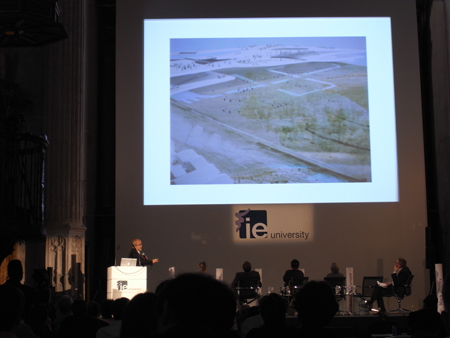 About master's competition project, Nagoya garden Port.
It is important that many Japanese master degree's student proposed the urban design solution to a local government about the potential problem.
http://www.furuya.arch.waseda.ac.jp/blog/index.php?itemid=677#extended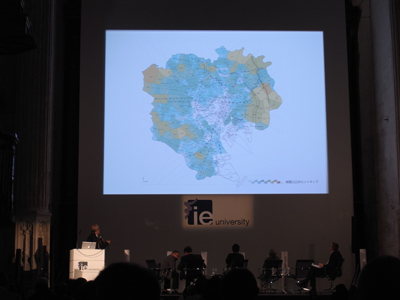 About UIA metropolis project
refarence: The research about the living environment in high density city, Tokyo by Yoko Takehana
参考: 東京23 区の人口動態からみる専門店集積地 - 高密度都市居住研究- 竹花洋子
http://www.furuya.arch.waseda.ac.jp/archives/index.php?itemid=42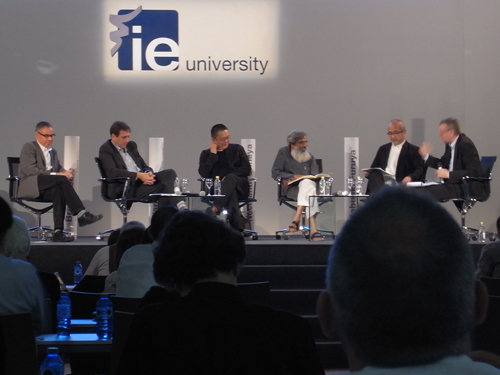 conference about Global Outreach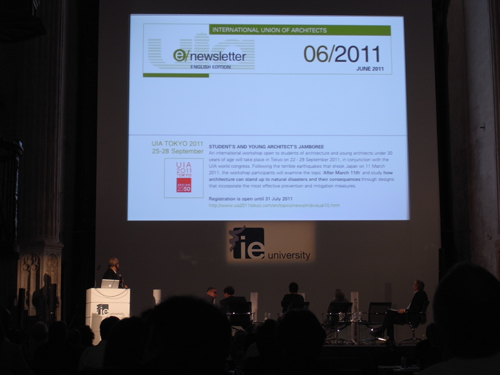 About UIA Tokyo 2011 25-28 September
http://www.uia2011tokyo.com/en/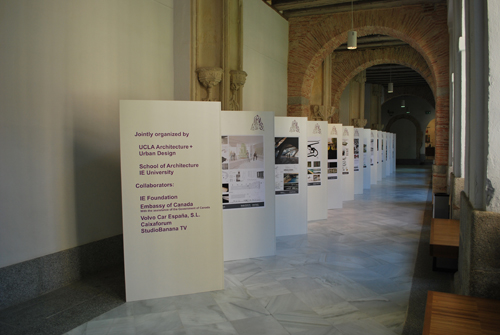 The exhibition of Innovation in Architectural Education:
Projects from Architecture Schools Worldwide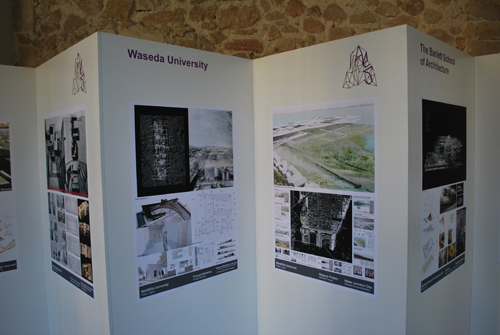 The exhibition of Waseda University.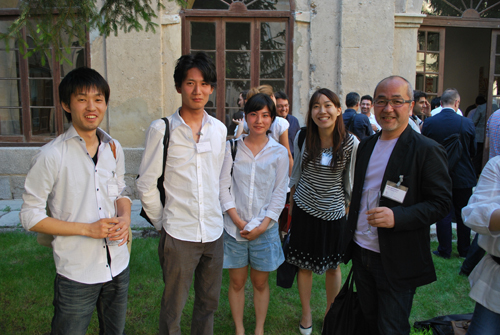 Exhibition and reception IE University, Segovia with the members of the Furuya Laboratory.